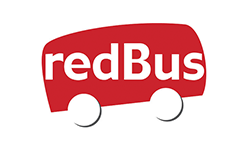 About the Client
Founded in 2006 in Bangalore, India, redBus today connects various cities across the globe at just a click of a button. redBus has revolutionized the online bus ticket booking industry by bringing together over 2,000 bus operators covering over 100,000 routes across countries. Redbus.in became a part of ibibo group via a 100% acquisition in June 2013. Today, redBus is India's Number One online bus ticketing platform, both on mobile and desktop.

With its mobile app downloaded by over 7.5 million loyal customers, redBus has also become the largest community of bus travelers in the world.
Business Challenges Faced
redBus is an internet-based business and operates completely online. They wanted to optimize its business operations and provide relevant offers to its members to retain existing customers as well as continuously onboard new ones. It started becoming obvious for their marketing team that customers were no longer responding to the old 'one‐size-fits-all' approach, wherein they created a campaign (for example: offering the customer 10% off on their next ride) and then scheduled it on the calendar and sent a mass blast to everyone on their email list. Such an approach made them face challenges like:

• A high booking abandonment rate
• Difficulty in cross-selling their partner hotels based on the customers' behavior
• Difficulty in targeting customers with personalized offers based on travel sources and destinations
• Difficulty in scheduling customer communications based on journey dates
• Difficulty in communicating return journey offers
• High checkout errors for customers

redBus sought a multichannel marketing communication solution to provide a better experience to its members. The team figured out that if they wanted strong customer relationships, they'd have to cater to people at an individual, 1:1 level. So, instead of starting with the campaign, they decided to start with the customer.

They tried capturing data on every interaction and started creating a blueprint of who that customer was, was this the customer's first visit to their site and what channel did the customer use? Which destination(s)/category of buses did s/he look at, or booked (or maybe didn't)? Which pages on the website did the customer visit? Did the customer sign up for email? If it's an existing customer, what was the booking history? Such data gave them a direction to be followed with each customer, so that they could offer them a highly contextual, personalized travel experience.

Gamooga Impact
redBus implemented Gamooga's intelligent customer engagement software to help improve relevant offers to its members. Gamooga provides a multichannel platform that interacts with redBus's website, App, call center, etc. helping personalize such interactive experiences.

Leveraging the customer data from multiple sources, and gathering insights using Gamooga's powerful Analytics Suite, the marketing team created various customer segments and sent them highly relevant, personalized messages based on their travel habits, transaction value, preferences, App and on-site behavior. Thus, shifting from a campaign centric approach to an orchestrated customer centric approach.

The impact on the bottom line has been huge; these personalized campaigns are now delivering 5X the results of previous promotional campaigns that were typically based around the campaign calendar.

Here are some specific challenges that Gamooga helped redBus overcome, resulting in 40% increase in brand value and CSAT scores.
Challenge 1: Engage customers who purchased bus ticket for cross-selling opportunities
Solution: For increasing their cross-selling capabilities (hotels in this case), every customer who booked a bus was shown a banner notification in the 'booking confirmation' page recommending hotels in the destination city. Once the booking is done and the customer leaves the website, an email was also triggered to these customers within 30 minutes, recommending hotels. The recommendations were customized to each customer based on the destination city, price range of the bus booked, type of the bus booked etc.

Impact: Cross-channel orchestrated effort saw a 30% rise in partner hotel branding and check-ins.
Challenge 2: Re-engage and convert the users who dropped at a certain point in their lifecycle
Solution: An extensive funnel dropout campaign was built based on the journey each user followed across the website. At every stage of the dropout, visitors were retargeted with relevant and personalized messages based on their activities on site such as the type of buses searched, destination city selected etc. For example, a user who viewed a bus to a destination city but did not yet make a booking was sent information about seats availability in that bus via browser push notification. If the user clicked on the browser push notification but still did not complete the booking was sent recommendations around similar type of buses.
Impact: Through extensive funnel dropout campaign, redBus was able to get the dropped out customers to re-visit their website and as a result, website/app sessions grew by more than 50%, the funnel dropout rates fell by 33% while bookings saw a rise of 17%.

Challenge 3: Serve dynamic offers to the users in an automated manner
Solution: Each city had different online bus booking offer with different coupon codes. Based on the source and destination chosen by the traveler, a dynamic city specific offer with the relevant coupon code is automatically shown to him/her. Gamooga enabled the marketing team to automate this activity by just drawing a 3-4 step workflow in a GUI builder, that too in a matter of minutes. Each time they wanted to modify the offers, all they did was update the CSV which had all offers at one place without depending on the IT team.

Impact: By showing relevant & dynamic bus booking offers based on the source and destination chosen by the traveler, redBus saw a 40% jump in brand value and CSAT scores.
Challenge 4: Increase the AOV of each customer who has booked the hotels listed in redBus
Solution: redBus wanted to up-sell/cross-sell other products based on the city and the type of hotel each user has booked. Gamooga enabled them to serve room upgradation offer in realtime at the time of check-in into the hotel and during their stay at the hotel, relevant offers on the meals were served during lunch/dinner time and if the destination city is a tourism spot, relevant recommendations on sightseeing were served.
Challenge 5: Send time-sensitive information to users timely through the right channel to improve customer satisfaction
Solution: Each bus has a different departure time and reminders had to be sent dynamically to each customer based on the buses they have booked. Once the bus reaches the destination city, a feedback survey had to be sent to the customer and if the feedback is bad, redBus offers them a discount on their next booking. To automate this entire journey, product team had to heavily depend on IT team which is now eliminated by Gamooga. All that the product team had to do was to draw a 3-4 step workflow in a GUI based journey builder and simply lie back. Gamooga took care of all the messages to be delivered to respective customers.

Impact: Through relevant and realtime dynamic messaging, such as sending bus tracking updates, reminders & feedback surveys, redBus drastically improved user experience and CSAT scores.
Challenge 6: Improve return-ticket booking rate by targeting the right user segment
Solution: Customers who re-visit the site/app within a week of booking a bus was shown a return trip recommendation which in turn enabled the users to book return trips at just the click of a button.
Impact: 1:1 personalized campaigns helped the rate of return ticket bookings to improve by 40% over a period of 6 months.
Challenge 7: Detecting and overcoming checkout error issues to improve conversions
Solution: If a customer faces an error while checking out, an email or SMS is sent with a link that lands him back on the same page where he left the site.
Impact: Pre-configured error detection campaigns helped the conversion rates to improve by 30% and positively affected the CSAT score.